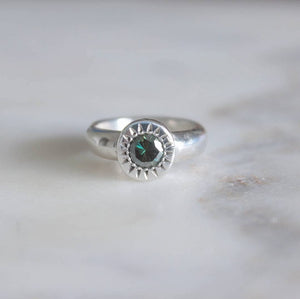 HooDooLouLou
Textured Solitaire Band // Peacock Moissanite
Regular price
$600.00
$0.00
Tax included.
**ORDERS PLACED AFTER THE 10TH OF NOVEMBER MAY NOT ARRIVE IN TIME FOR XMAS. I WILL BE AWAY FROM MY BENCH FROM DEC 20- JAN 20, ORDERS PLACED DURING THIS TIME PERIOD MAY BE PROCESSED IN THE NEW YEAR WHEN I RETURN.**
Listing is for one handmade Sterling Silver Ring with one bead set elusive Blue/ Green Peacock  Moissanite. Stone is roughly 6mm in diameter. All sizes in AU.

MADE TO ORDER Please allow roughly 3-6 weeks turn around time.
CUSTOM SIZES AVAILABLE If you can't find your size in the drop down menu please contact before purchasing. 
PLEASE NOTE ANY CHANGES TO ORDERS AFTER THEY HAVE BEEN PLACED WILL INCUR A FEE
NO REFUNDS FOR WRONG SIZE ORDERED
Please check your sizing here https://hoodooloulou.com/pages/sizing
Ring features a thick comfort fit band in a high polish with a rough texture (this means some tool marks have been deliberately left visible to give the ring a more forged look) and a brilliant cut bead set Moissanite.
Moissanite is a rare, naturally occurring mineral also known as silicon carbide. Named after Nobel Prize-winning chemist Dr. Henri Moissan, moissanite was first discovered in 1893 at the site of a massive meteorite strike in Arizona. Moissanite is known for its high refractive index (RI) of 2.65, which is notably higher than diamond, sapphire, CZ, and other gemstones known to be very brilliant. (Brilliance is the flashes of white light exiting the top and sides of a gemstone) However, the natural quantities of moissanite are too small to create jewelry.
The jewel was created through a combination of science and art. These man made stones are chemically and physically identical to their mined counterpart and because they don't require intensive mining, they don't have the environmental impact.
They offer an ethical and affordable alternative to the traditional diamond for the Bride or Groom who want to focus on slow fashion and sustainable processes. All our signets start off as a block of wax which is then carved out to the desired shape. One the desired design has been achieved we use a process called the lost wax casting method where we make a mould of the wax ring and cast using recycled sterling silver. All our materials and processes are recycled and ethically sourced and aim to reduce our carbon footprint as much as possible.
---
Share this Product
---
More from this collection